First squatter jailed under new law
By Owen Bowcott, The Guardian,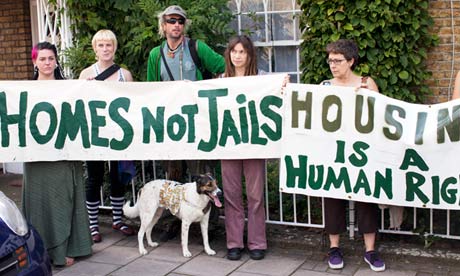 "A 21-year-old man arrested at a flat in Pimlico, central
London
, has become the first person to be jailed under the government's anti-
squatting
legislation.
Alex Haigh, originally from Plymouth, has been sentenced to 12 weeks in prison after pleading guilty to occupying a
housing
association flat without permission.
The Crown Prosecution Service confirmed that Haigh was the first person to be given a custodial sentence under section 144 of the Legal Aid, Sentencing and Punishment of Offenders Act, which came into force on the first day of September.
West London magistrates heard that police officers had gone to the flat in Cumberland Street on 2 September in search of another man. They arrested three people, one of whom was Haigh, on suspicion of squatting and all three have been convicted; the other two are awaiting sentence.
The law criminalises squatting in residential premises. Housing charities have warned that it may trigger a surge in homelessness as squatters are forced on to the streets in order to avoid a criminal record. (...)"
Article Analysis
By Anaïs Ouin, 3e année, Licence Droit Bilingue, Université du Havre
Alex Haigh, 21 years old, is an apprentice bricklayer. He comes from Plymouth, a city and unitary authority area on the south coast of Devon.

In July 2012, he settled in Pimlico (Central London) to seek work.
With two other people, Alex was arrested by police officers in Cumberland Street on September 2nd, 2012, because they occupied a housing association flat without permission. All three have been convicted. Alex pleaded "guilty" because the building that they were occupying was empty for more than a year. The two other persons are still waiting sentence but Alex was sentenced to 12 weeks in
prison under section 144 of the Legal Aid, Sentencing and Punishment of offenders Act.
This section came into force on September 1st, 2012 and it criminalises squatting in residential premises.
According to this section, "

a person commits an offence if:
(a)the person is in a residential building as a trespasser having entered it as a trespasser,
(b)the person knows or ought to know that he or she is a trespasser, and
(c)the person is living in the building or intends to live there for any period".
The section also defines what is a residential building and it deals with sentences.
Indeed, Alex was the first man to be given a custodial sentence simply for trying to keep a roof over his head.
Some people were against the law and supported Alex Haigh:
-His father, Hugh Haigh,
said "To put him in that prison environment, I don't understand it. If he broke the law, he should be dealt with, but it is like putting someone who has not paid their taxes into Dartmoor prison ". He doesn't understand the law. He doesn't consider that what
his son did was a crime or something wrong.
-The Squatters' rights groups Squash (originally set up in the early 90's to resist to the Tory's government attempt to criminalise squatting as part of the Criminal Justice and Public Order Act 1994) supported Alex. They considered that the situation as "deeply disproportionate and unfair". They said that 930,000 properties are empty across the UK. It should not be a crime to bring back these buildings into use…
The article also underlines the financial aspect of the law. In fact, under section 144, squatting in England and Wales is punishable by jail and fines of up to £ 5,000. So the Squash group claims that the cost of criminalising squatting will as high as £ 790 million over the next five years. It reveals that there are many squatters, many people who may seek work and who are homelessness. It is a dreadful record.
Is the law a positive solution? Is jail a good sentence? Are there any other solutions to deal with squatting?

How squatters could be helped? How could the squatters be "useful" to renovate the empty buildings in habitable houses?